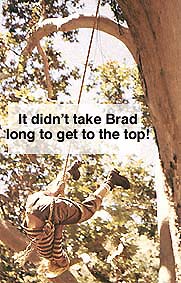 BIO
a photo biography of Brad Pitt
Part I: The early years

1963:
William Bradley is born on 18th December, in Shawnee-Oklahoma (USA), a son of Bill and Jane Pitt.
He grows up in Springfield-Missouri (USA).

1968:
He keeps his second name, Bradley, so as not to be mistaken for his father, William.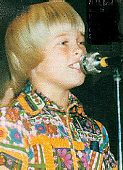 1969:
He becomes a member of the South Haven Baptist Church choir.
Watches his first movie: Butch Cassidy and the Sundance Kid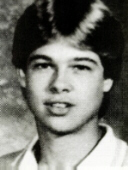 At Kickapoo High School he participates in everything: school plays, the student council, singing, art and baseball. During one baseball game, the sun blinded him and he has hit on the left cheekbone by the ball. He still has that scar on his face.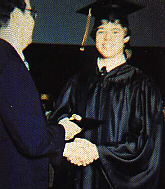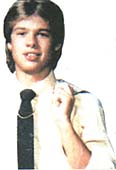 Early 80īs: After finishing high school, he studies at the University of Missouri (majors in journalism with an advertizing focus). He is voted the most well-dressed senior.
1986-87: He miraculously survives a car accident. Brad decides that he doesnīt want to end up with a cosy job and a family like everyone else in Missouri: just two weeks before graduation, he gets into his silver Datsun, the "Runaround Sue", as he calls it, and heads for Beverly Hills with only 325 dollars in his pocket! He wants to give acting a shot, but tells his parents that he wants to study graphic design at Pasadenaīs Art Center College of Design. As a start, though, he becomes a refrigerator delivery boy! Next step? He tries to convince people to buy tickets for a local police ball in a tele-sales program. Some other weird jobs include driving strippers to work in a limo, having to take care of the music part of the show and pick up their clothes. He later puts on a chicken costume so as to promote the El Pollo Loco (=The crazy chicken) fast-food restaurant. Sometimes people are laughing at him, but he doesnīt mind. He knows it is nothing personal. But the dream comes closer, when a stripper recommends him to start acting lessons with Roy London, the man who also helped Michelle Pfeiffer and Sharon Stone.
1987: His two-seconds lasting film-debut in Less than Zero. Starts playing TV roles in series: Thirtysomething, Another World, Dallas, Growing Pains, Head of the Class, a guest in 21 Jump Street and Tales from the Crypt...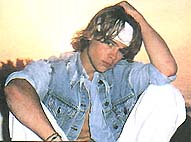 1989: His agent wants to make him a TV-star, but he wants to play in movies. While shooting his first important film, Too Young to Die? he meets Juliette Lewis, who becomes his first long-term companion.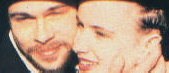 They move into a rented bungalow.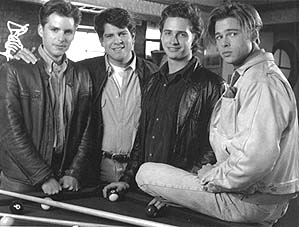 1990: He stars in Glory Days, an unsuccessful TV series.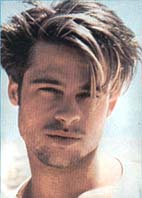 The Levis Commercial that made people more familiar with Bradīs face.
---
---
Created by Alexandra Haviara - Online since 22nd October, 1999
Page last updated 9th November, 1999
page 5