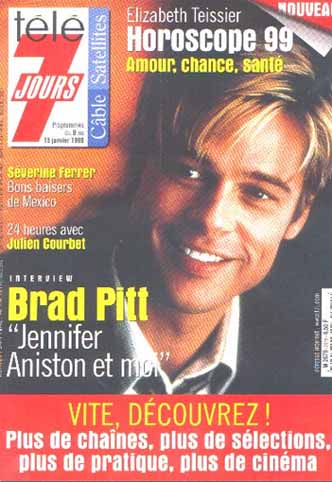 ---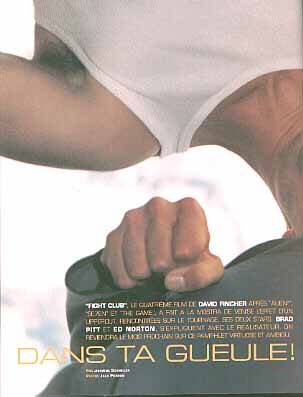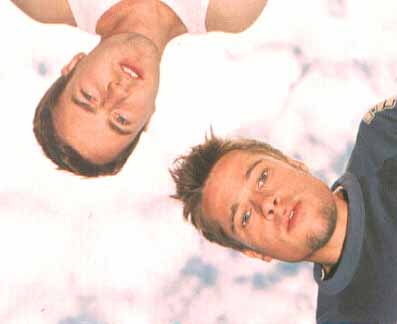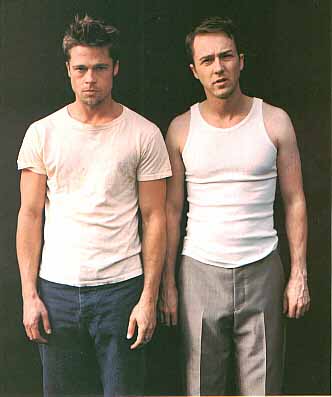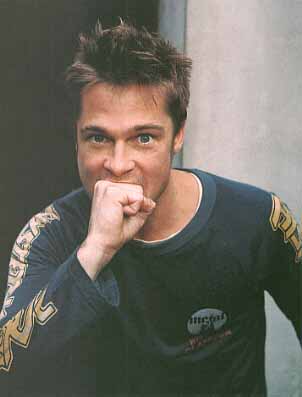 *** the article of this magazine is the french translation of the U.S.A. August issue article***
---
---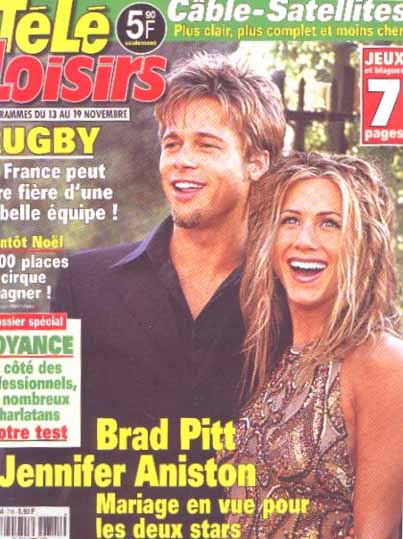 ---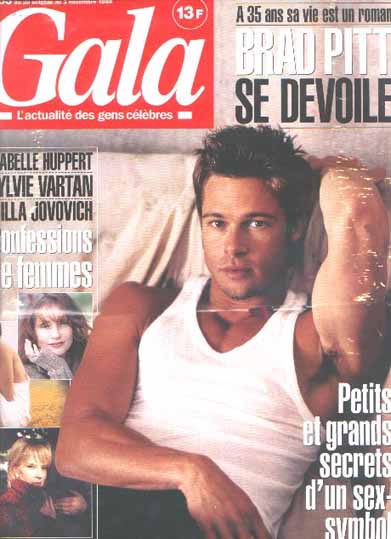 ---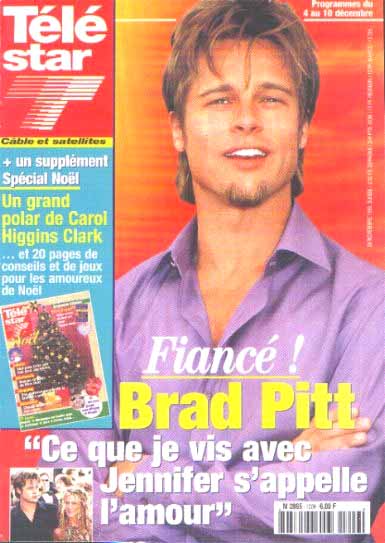 ---
Brad Pitt
"No woman has made me happier than Jennifer..."
His new movie fight club
(first and second paragraph:a summary of the story)
During the shooting of FC, Brad has two teeth out by a dentist situated on his upper jaw in order to make his chartacter more plausible. His teeth have been shut up in a refrigerator. His dentist put them back at the end of the shooting. Imagine if they had disappeared! Thanks to the american magazine "W", his admirers discovered several pictures of him partly naked, with the look he had adopted for F. He was on the cover and there were several pictures inside the magazine as well.
He said that!
"With Legends of the Fall I was starting to saturate with the appearance "too clean" of Hollywood's movie. What's more, with that story of "sexy man" which was going to happen to me, there was a moment when everything seemed to me false. I had the feeling to be myself a lie. It was unbearable."
"...I had to fight several times in High school, but I 've never injured someone except my self-respect.I lost one fight and I won an other one probably hiting below the belt."
"You know, what is good with fame, we learn that nothing is personal. People like you, people don't like you, they say what they want. But, generally, the most part of their talk words, that's got nothing to do with you. What do you want to do? Nothing. So ,why worry about it?"
Mad about Jennifer
JA makes people envious throughout the world since we have discovered her relationship with Brad. Now,they make no secret of their love, they multiply their appearance in public. Some relations of the couple claim that they are engaged since few months, in private. They are of all parties and avant-premieres like the one of Eyes wide shut in L.A.
This summer, Brad and Jennifer went away on holidays in Spain (Seville, Granada), in Portugal (Lisbonne) and in Morocco. Pursued by a pack of Paparazzi, they had to shorten their journey, with a heavy heart. Inseparable, they always are in the forefront of fashion. An italian magazine calculated that the couple spends about 250$ a day to buy clothes in Beverly Hills Center, a trendy mall of L.A. Jennifer and Brad have just bought a small "love-nest", in former times Olivia Newton-John's house which overhangs Santa Barbara. During the last ceremony of Emmys, Jennifer said:"I'm a happily woman. It's time I share my happiness with the public, because it's true that, a year ago, she made secret of her love for Brad, maintaining to the press: "we are just friends." Brad, more reserved, maintains: "no woman has made me happier than her" (more reserved!??! weird sentence!) In a hurry to see them become joined in marriage, her dad declares their wedding is near.
plans by the bucketful!
Brad might shoot in Urban Townies, of Mark Romanek. He would play the role of a writer which is the complete opposition with his family. This one goes to Chicago in order to preserve his artistic integrity and found his muse. He 's only just settled when he turns back to take care of his father who is sick. This test will allow him to get closer to his father.
Then, for brothers Coen, Brad will put on the uniform of an american lieutenant of which the B-29 has been destroied above Tokyo, march 8th 1945, the day before Hiroshima. He has a knife and a kit of frist aid, that's all! This story, taken from a book by James Dickey, combines action and poetry. Already entered in his calendar 2000, the road movie Waking up in Reno, with Jennifer. They will play a couple from Arkansas who has incredible holidays in Reno, Nevada. The shooting should start in autumn. No date for his release. Brad has not signed yet, but his next movie might be "The Mexican". He will play a roving gangster, in Mexico, in search of a mistery gun which has been stolen. At last, we can add his participation in the movie "Being John Malkovich", at movies theater December 8th (in France).
---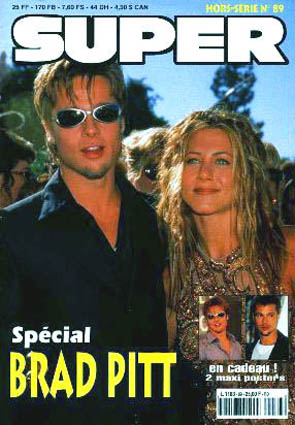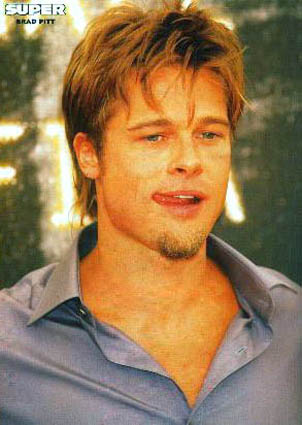 ---
Created by Alexandra Haviara - Online since 22nd October, 1999
Page last updated: 11th March 2000