Films 2
A River Runs through It (1992)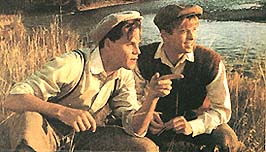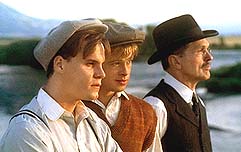 ...as Paul Maclean with his brother, Norman (Craig Sheffer) and their father (Tom Skeritt)
Director: Robert Redford
Also starring: Craig Sheffer, Emily Lloyd, Tom Skeritt, Brenda Blethyn
Details:
Redford said that he didnīt mind when people compared Brad Pitt with himself, because he admired Brad a lot, and that he chose him for the part because, as Paul, Bradīs sensitivity is covered under a hard plating.

Bradīs audition for the part was bad, but he took the role after sending Redford some videotaped scenes.

Tom Skeritt said about Brad: "You want more from this guy than he is willing to give you".
---
Kalifornia (1993)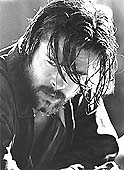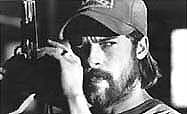 ...as Early Grayce
Director: Dominic Sena
Also starring: David Duchovny, Juliette Lewis, Michelle Forbes
---

Created by Alexandra Haviara - Online since 22nd October, 1999
Page last updated 9th November
page 8