Films 3
some of the images will become larger if you click on them
True Romance (1993)
...as Floyd
Director: Tony Scott
Screenwriter: Quentin Tarantino - Read the movie script!

Also starring: Christian Slater, Patricia Arquette, Dennis Hopper, Val Kilmer, Gary Oldman, Christopher Walken
Running Time: 116ī
Articles & Reviews:
---
Legends of the Fall (1994)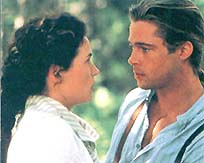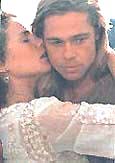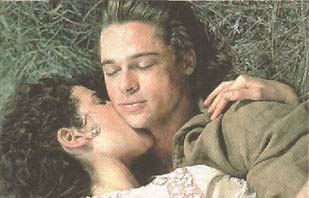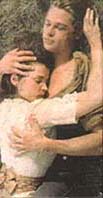 ...as Tristan Ludlow with Susana (Julia Ormond)
- the photos with Brad Pitt and Julia Ormond are taken from scenes that were excluded from the final product -
*** MORE pictures ***
Director: Edward Zwick
Screenwriter: Susan Shilliday, Bill Wittliff (based on the novella by Jim Harrison)
Also starring: Antony Hopkins, Aidan Quinn, Julia Ormond, Henry Thomas, Karina Lombard
Running Time: 134ī
Details:
Brad said about Tristanīs role: "this is the only role I've ever done where I felt like I was the best person for it."

He was the one who convinced Zwick include Aidan Quinn in the cast, as Bradīs older brother.

Gwyneth Paltrow made an audition for playing in the movie, but was not finally cast.
Articles & Reviews:
---

Created by Alexandra Haviara - Online since 22nd October, 1999
Page last updated 2nd December
page 10