Films 4
Interview with the Vampire (1994)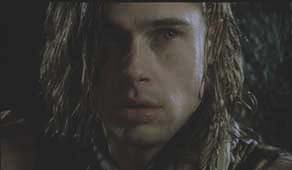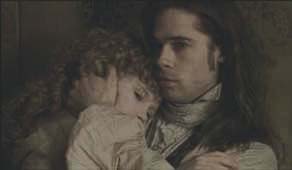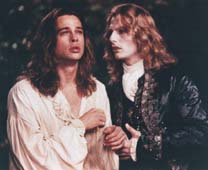 as vampire Louis De Ponte Du Lac ...with Claudia (Kirsten Dunst) ...and Lestat (Tom Cruise)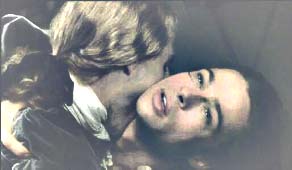 Director: Neil Jordan
Screenwriter: Anne Rice (based on her novel)

Also starring: Tom Cruise, Kirsten Dunst, Christian Slater, Antonio Banderas, Stephen Rea
Running Time: 122ī
Awards: Brad Pitt wins an MTV Movie Award (Best Male Performance)
Details:
This film was made 18 years after it was originally thought. Tom Cruise took the role of Lestat, which would be given to John Travolta in 1976 and Richard Chamberlain in 1985. Although everyone wanted Brad Pitt to take the part of Louis, Anne Rice, who wrote the book on which the movie was based, didnīt believe Tom Cruise would be suitable but finally, she was 100% satisfied with the final product.

Neil Jordan said that Brad was a star since he appeared in Thelma and Louise, and would always be.

Producer David Geffen said: "In Interview with the Vampire, Brad's character is very passive. You need an awful lot of charisma to be in a movie where someone else does all the action. And Brad has it."

When this movie was released, Entertainment made a poll. The question was: "Between Tom Cruise and Brad Pitt, who would you chose as your blood-drinker?" Sixty six percent (66%) of the women who responded prefered Brad!
Articles & Reviews:
---
Se7en (1995)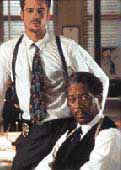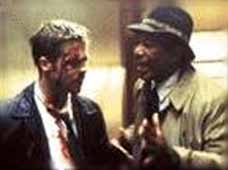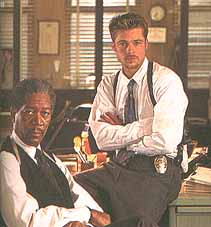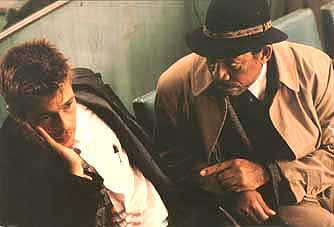 ... as detective David Mills with detective Sommerset


Director: David Fincher
Screenwriter: Andrew Kevin Walker
Also starring: Morgan Freeman, Kevin Spacey, Gwyneth Paltrow
Running Time: 127ī
Awards: Brad Pitt wins an MTV Movie Award (Most Desirable Male)
Details:
Brad turned down a role in Apollo 13 for playing in Seven.

He was very upset before shooting the final scene, smoking one cigarette after the other. Later he said: "I would love to do that scene again. To be truer."
Articles & Reviews:
---

Created by Alexandra Haviara - Online since 22nd October, 1999
Page last updated: 2nd February 2000
page 11